New* ATMOBLUE – Reusable Smart Air Purifier that Blocks 99.9% of Toxic Air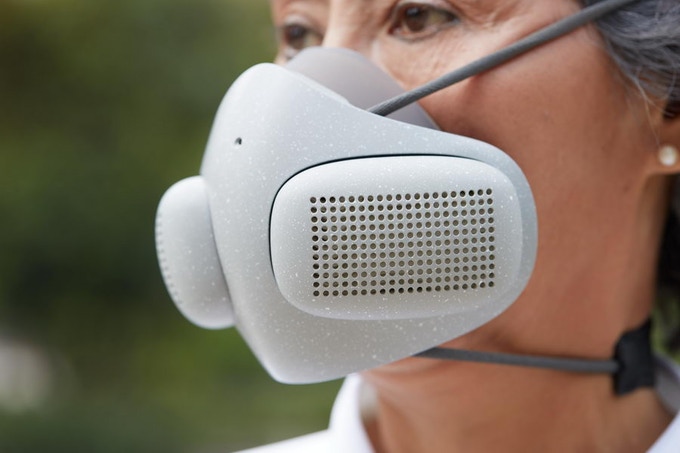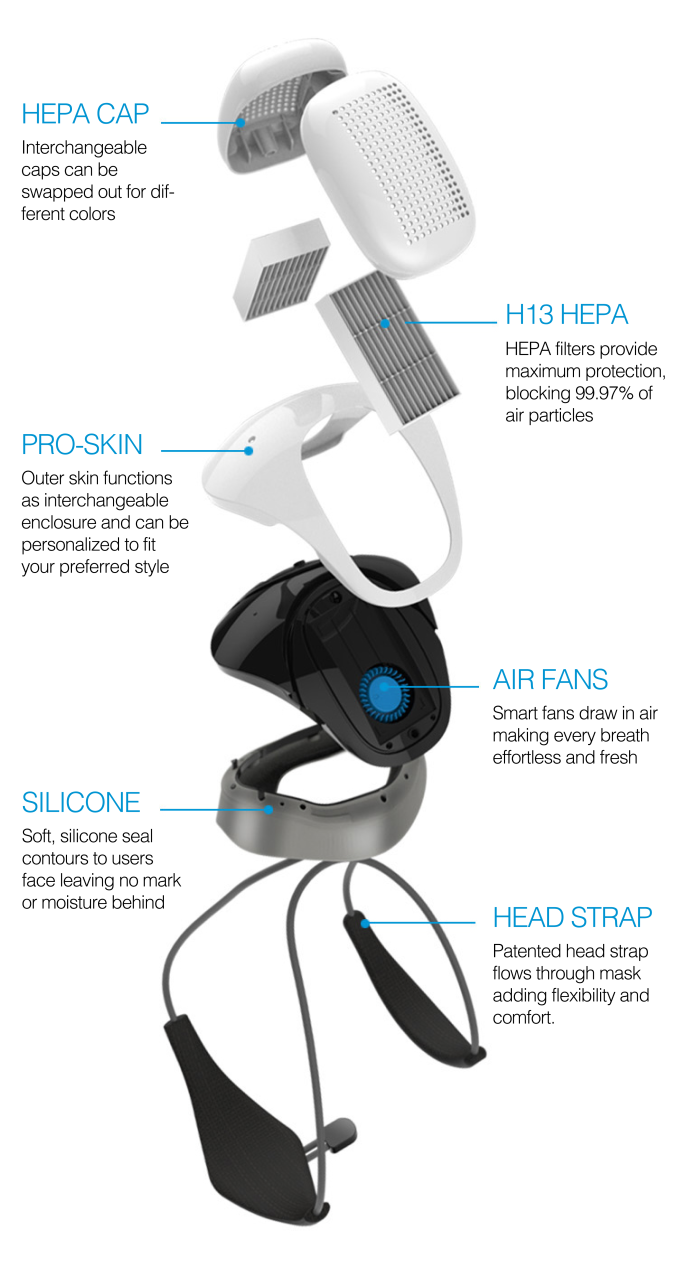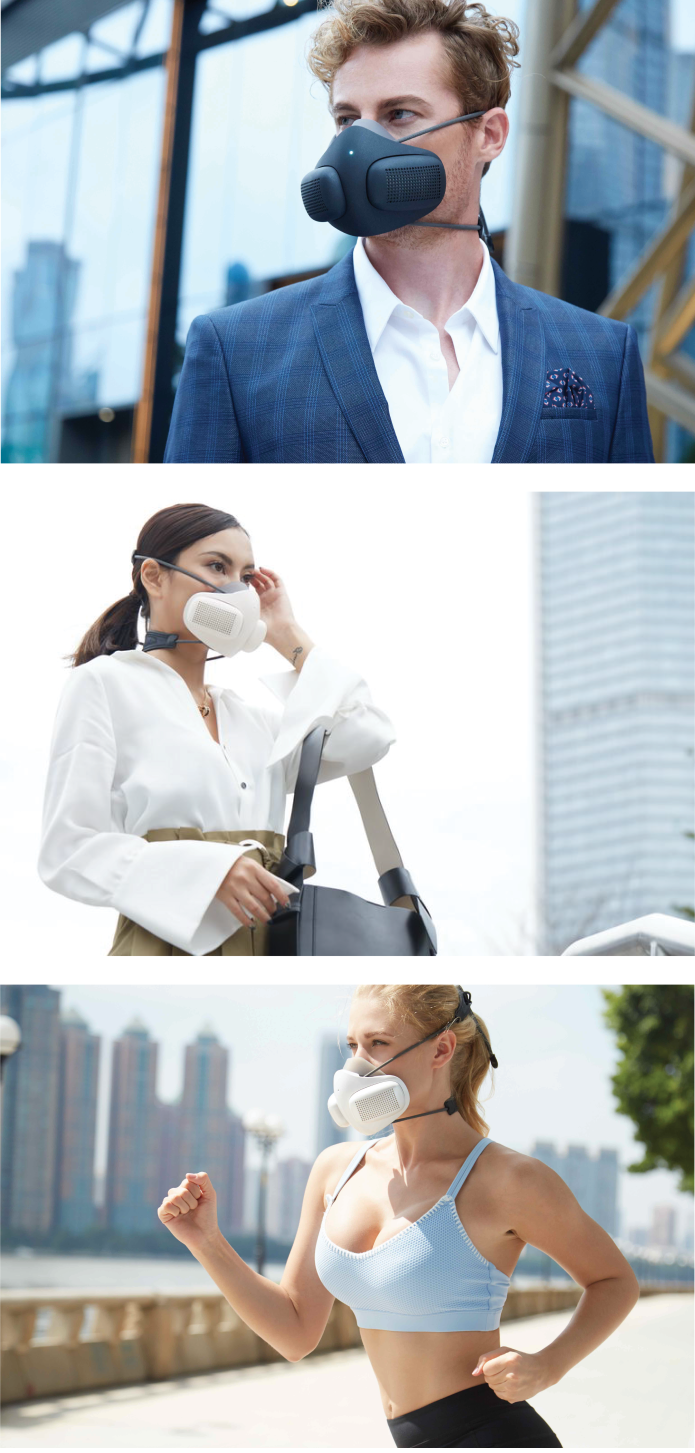 A wearable, smart air purifier, uses industrial grade, replaceable filters
Replaceable H13 HEPA Filters
Blocks 99.97% of air particulates
Average use time is 150 hours
High Quality, Multi-Fold design
Traditional filters are flat and are quickly consumed. Our unique filters are made of up meticulous folds, compressing the flat surface area of two 9.5 squared inch sheets, into two compact filter blocks that slide right into your mask
N95 < N99 < H13 HEPA Filters
You may have heard the term N95. This simply means 95% of air particles are being captured. At the higher end of the spectrum, N99 (99%) masks are offered for more industrial applications such as painting or waste cleanup. Moving one step further ATMOBLUE's, H13 HEPA filters block 99.97% of particles that are 0.3 microns in diameter or larger. To give you a bit of context, one strand of human hair is about 75 microns across!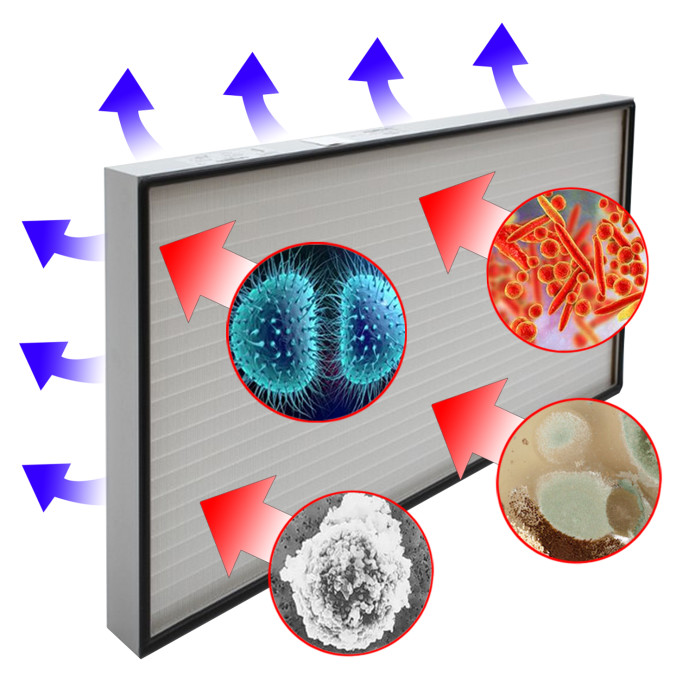 Our high-end H13 HEPA filters use melt-blown, nonwoven fabrics, to block harmful chemicals, bacteria, viruses, pollen, pollutants, smoke, micro-dust, odor, and more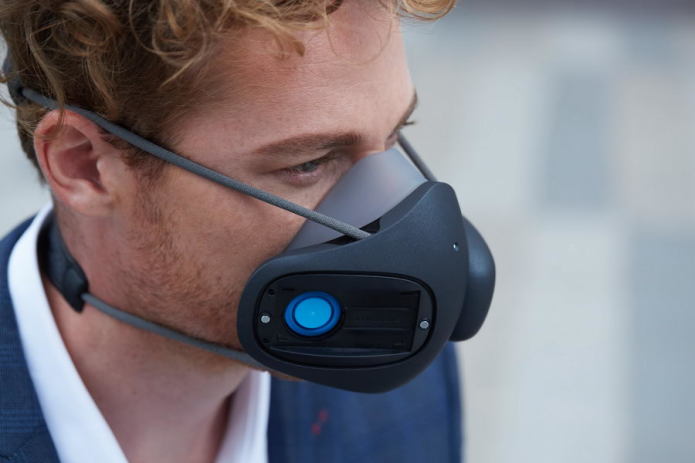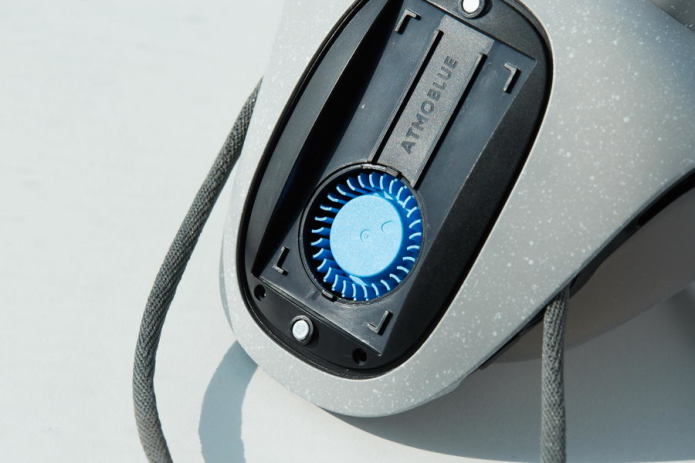 Innovative Air Flow Technology
Dual, high-speed, centrifugal fans continuously supply filtered air to create a refreshing breathing environment.
Three airflow control settings. Users adjust speeds as needed
Positive Air Pressure allows users to breathe effortlessly with zero resistance.
The term positive airflow means excess air or "positive air" being pushed into the mask and out through its vents. Because of this solution positive air pushes out exhaled air increasing the overall effectiveness of the mask by removing unwanted bacteria from the breathing zone.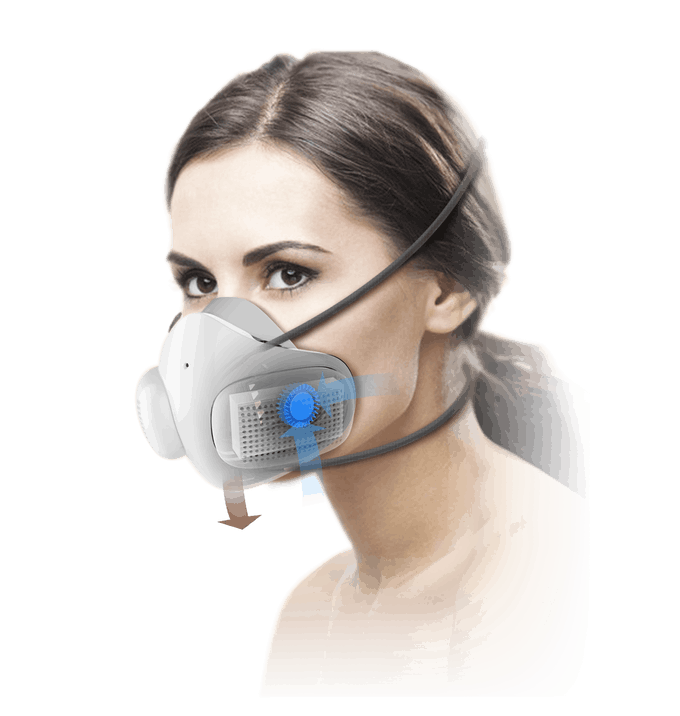 Designed for the most extreme conditions ATMOBLUE's multiple airflow settings allow users to switch between light mode, when sitting idle on the train or a car, to high strength when jogging through the city or on the job.
Depending on your use, such as fan speed, your rechargeable ATMOBLUE system runs continuously from 3 – 5 hours. When battery life is running low a red indication light notifies users when to recharge. Simply plug into any USB port until your indicator light turns white again.
Can runs continuously 5~8 hours
Lightweight silicone seal
Dermatologically friendly silicone creates a soft but airtight seal keeping good air in and bad air out. ATOMBLUE won't leave marks on your face after each use and can be worn with glasses without fogging up vision.
ATMOBLUE's fresh air system combined with our unique silicon solution gives users a truly enjoyable breathing experience. That means, no nasty scent or moist fabric touching your face.
Designed to fits various face sizes.
Our unique silicone seal was designed with users in mind. We compiled data of over 1000 individuals' faces and created a unique solution that adapts to various sized faces. ATMOBLUE's soft, lightweight silicone seal contours around users' faces leaving enough room for movement and flexibility.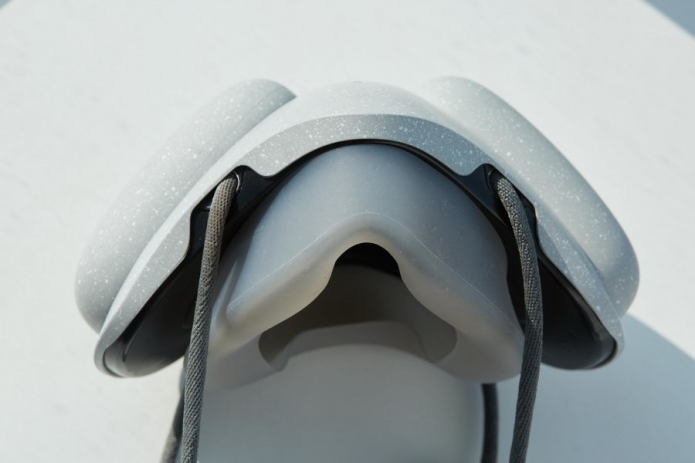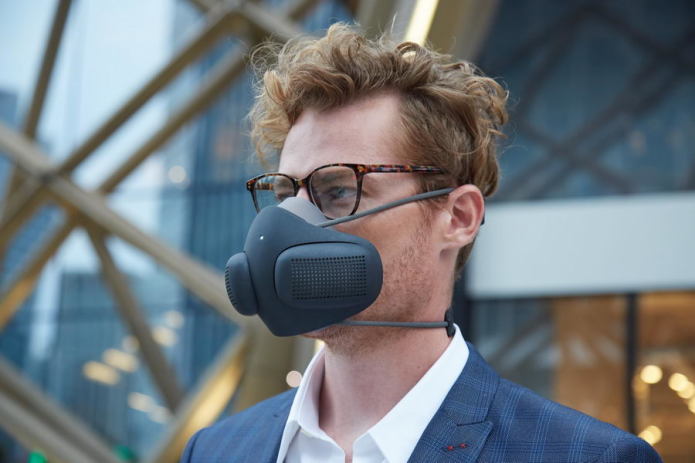 Our patented head strap system allows users to move about comfortably in any direction. If you've ever worn a mask you know how frustrating head straps can be as they cause unnecessary pressure behind your ears or simply fall off your head when moving around.
With our unique strap-channel design, the continuous head-strap flows through the mask, around your neck and head, creating a full range of continuous motion.
Designed with athletes in mind we used high-quality, flexible, materials allowing for a stretch when using your mobile device or looking around your periphery. ATMOBLUE's strap system in combination with our soft silicone seal allows for a tight, secure fit with superior comfort and style.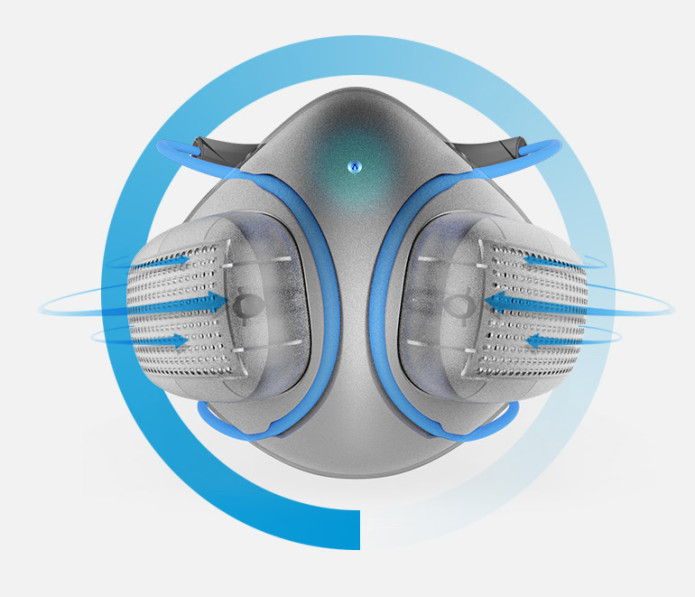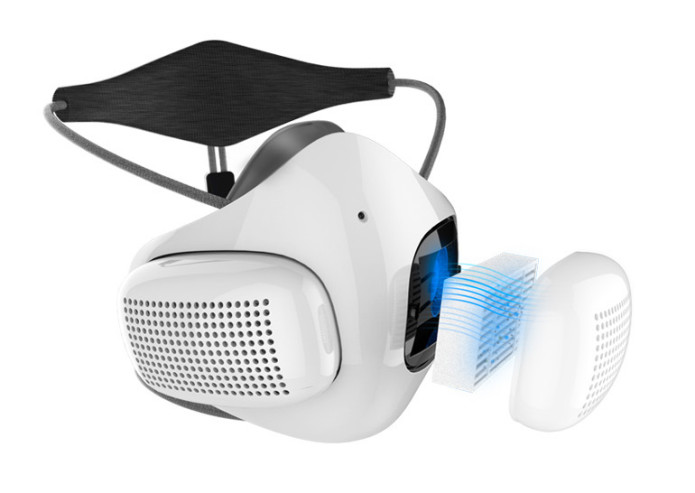 Compact design & Interchangeable skins
Showcase your unique style with ATMOBLUE's modular skin system. Available in four color configurations: Smoke, Pearl, Cement Grey, and Light Pink
Replaceable covers allow your mask to transform and adapt to your style and environment. Simply remove the magnetic HEPA caps and pop off the front of the mask. Once you've chosen one of your ideal color skin, simply attach and go.
Designed to be worn around your neck when not in use or in your carrying bag, ATMOBLUE's compact design features a lightweight design of only 190 grams.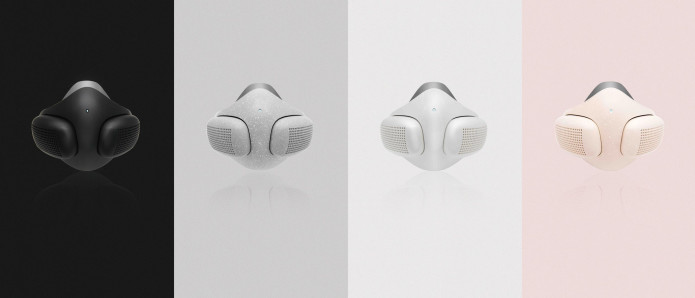 APP control (Unlocked With Stretch Goal)
As an added bonus, all ATMOBLUE units come standard with built-in software & APP control. The device management APP provides real air-time quality indicators, tracks personal metrics, and most importantly offers dynamic airflow controls.
Our patented i02 air control algorithm allows users airflow to automatically adjust according to their activity. If the user suddenly picks up speed, say while working or exercising, the APP automatically increases fan speed, reducing breathing resistance and offering more fresh air on demand. Over time we plan to release new updates to the mask for extended capabilities.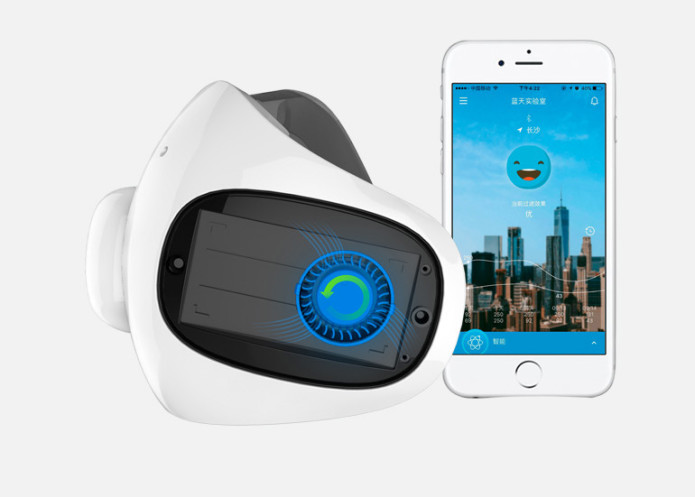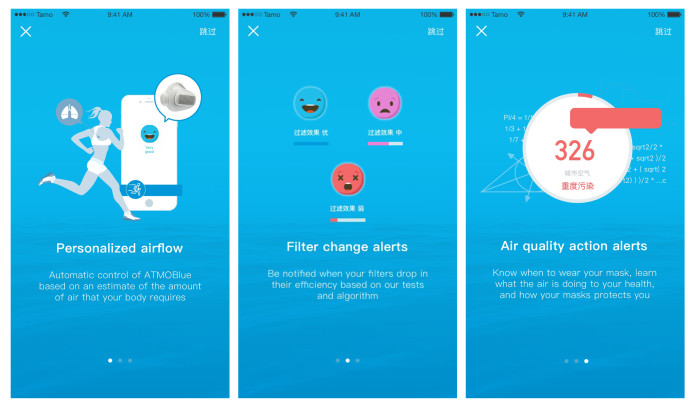 With the ATMOBLUE app, users can interact with their masks, confirm filter life, personalize airflow settings, or simply check the air quality index in their area.
1. The app for this mask is currently under development, It will be ready in the future but can't be used currently.
2. It's better to use a 5V-1A charger to charge the mask.
3. This product is a personal hygiene product, It can't be returned once it's used except for quality issues.
Q. 1. How long do ATMOBLUE filters last?
Filter cartridges are good for 150 hours of use time in moderately polluted environments. For low to moderate daily use, your filters can last as long as 8-10 weeks however we recommend changing your filters every 4-6 weeks to ensure maximum protection.
Q.2. How do I clean/disinfect my ATMOBLUE?
We recommend wiping down your ATMOBLUE after each use to ensure maximum cleanliness. For low to moderate daily use, we recommend wiping down your unit after every three to four uses, or approximately 9-12 hours. You can use any standard disaffecting agent such as Lysol wipes or water & bleach solution on a damp towel, washcloth, or napkin.
Q.3. How does ATMOBLUE function?
ATMOBLUE is a battery-powered, air filtration device, featuring high powered fans and filters. Once your ATMOBLUE is fully charged users can press down the power button on their device. For faster fan speed settings, simply hold the power button down 1-2 seconds, repeating the process for all three power settings. To power off your ATMOLBUE, press and hold the power button until the unit's fans power off.
Q.4. Is ATMOBLUE designed for pollution filtration only?
No. While ATMOBLUE was originally designed to protect users from harmful pollutants such as PM2.5, our industrial-grade filters protect users from other various air-borne particles. Please see the text and photos under the filters section to better understand all the elements ATMOBLUE protects its users from including bacteria, dust, pollen, smoke, dander, odors, and more.
Q.5.

Does ATMOBLUE really block up to 99.97% of air particles?
Yes. ATMOBLUE features H13, HEPA filters which are made for industrial applications such as on-air purification systems. We've taken the power and effectiveness of stand-alone air purifiers and compressed it down to a portable air filtration system. With this, users receive 99.97% protection that is more effective than N95 or N99, disposable mask. Best of all it's reusable!
Q.6. How can I customize the color of my ATMOBLUE?
ATMOBLUE features interchangeable "skins", which allow users to personalize their mask to fit their desired style. Currently, we offer 4 colors including smoke, pearl white, light pink, and cement grey. We will send out a survey toward the end of our campaign where users can add their additional color.y
Q.7.

How long does ATMOBLUE function per single charge?
With our premium battery upgrade, ATMOBLUE lasts up to 6-8 hours on a single charge, depending on fan speed settings. Once our campaign reaches the million-dollar mark we will be shipping all units with premium long-lasting batteries, free of charge.
Q.8.

How do I charge my ATMOBLUE?
ATMOBLUE is chargeable via USB-C cable. Simply plug in your unit to a standard USB compatible power adapter to charge.
Q.9.

Does ATMOBLUE come with an APP?
All ATMOBLUE units come with in-built smart features including Bluetooth connectivity for connection to the ATMOBLUE APP. Once the "Device Management APP Stretch Goal" is achieved, all backers will have immediate and free access to the ATMOBLUE APP.
Q.10.

Does ATMOBLUE function without the APP?
Absolutely. ATMOBLUE can be controlled directly from the mask, including for powering on and off and adjusting fan speed/power settings.
Q.11.

Is ATMOBLUE suitable for young adults?
While ATMOBLUE was designed for adult usage, we've designed the masks to be suitable for all face sizes including smaller, petite faces. To do this we compiled data of over 1000 individuals' faces to ensure maximal fit to users. Most Teenagers and pre-teens are ok to use ATMOBLUE. Younger children may not achieve a maximum airtight seal however will still benefit from ATMOBLUE's positive air pressure feature.
BUY WITH CONFIDENCE
We truly believe in the best customer support, meaning we will do whatever it takes to make sure you have a positive purchase experience. We respond to emails within 24 hours and always make sure all your concerns are answered ASAP.
Easy Returns.

All our products are backed with 60-day money back guarantee. Just contact us and we will refund the purchase price.

Risk-Free Purchase:

Our Buyer Protection covers your purchase from click to delivery so you can shop with peace of mind.

100% Satisfaction Guarantee:

All our products are backed with 60-day money-back guarantee. If for any reason you're not completely satisfied with your purchase, contact us for a product refund. We'll be more than happy to assist you.